Insight:
To get homeowners insurance with a bad roof, you may need to pass an inspection, or you may be limited to actual cash value coverage. Read on to know how an aging roof can impact your coverage.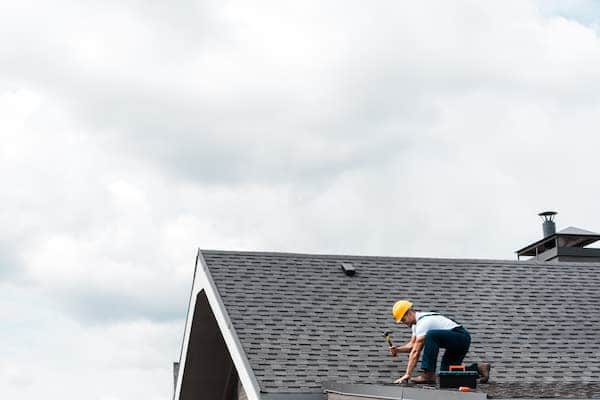 Homeowners insurance is a crucial part of a sound plan to protect a home and your investment in it. But an aging roof can make it more difficult to get the coverage you need at the price you desire.
An aging roof makes insurers nervous because of the damage that can result from not having your home properly protected.
"If the roof is old, many companies might not want to even insure you until the roof is replaced," says Loretta Worters, vice president of media relations for the Insurance Information Institute.
Read on to learn more about how an aging roof can impact your coverage, and what you can do to make sure your roof is in the right condition to get the best rates.
Key Takeaways
Insurers may be reluctant to insure a home with an old roof, particularly if it is 20 years old or older.
Homes with old roofs may be restricted to actual cash value protection, which can leave the homeowner with high out-of-pocket costs when making a claim.
Trying to fool your insurer about the age of your roof is never a good idea.
Replacing a roof can be expensive, but is usually the best solution for the homeowner. It may even get you a discount.
Why is it important to have a strong roof?
A roof is the ultimate barrier that protects the rest of your home from the elements. "Once a roof is damaged it no longer protects the interior of your home," Worters says.
Without a strong roof, your home is more vulnerable to damage from events such as:
Hail
Hurricane
Rain
Snow
Wildfire
A roof that is in bad condition makes your home susceptible to leaks, the growth of mold and mildew, and other problems. As a result, an aging roof often creates "too much of a risk most companies won't want to take on," Worters says.
How does an aging roof increase your homeowners insurance costs?
If your roof has seen better days, insurance companies may choose to take extra steps to make sure they fully understand the risk your roof presents.
For example, Worters notes that the insurer may send an inspector to look at the roof and conduct a roof inspection. If the roof does not pass muster, it can impact the level of coverage you will receive in your policy.
"If your roof is very old and you have a claim, the insurance company might only pay what the roof is worth after all these years of wear and tear," Worters says.
That means the insurer will only provide what is known as actual cash value coverage, in which you are insured only up to the amount of the roof's depreciated value.
This type of insurance is far less robust than replacement coverage, in which the insurance company reimburses you for the cost of replacing the old roof with a brand-new roof at today's construction costs.
The danger of actual cash value coverage is that your insurance check likely will not cover the full price to replace the roof, possibly leaving you with thousands of dollars in costs you will need to pay out of pocket.
It is also possible that an insurer will charge you higher homeowners insurance premiums based on the age of your roof, and the added risk it presents.
How can I get insurance if my roof is in bad shape?
Insurance companies may be reluctant to insure a home with a roof that is 20 years old or older. To get coverage, you may need to pass an inspection, or you may be limited to actual cash value coverage.
Some insurance companies may flatly refuse to cover any home with a roof that old.
Instead of trying to insure a home with an old roof, a far better approach is to simply replace the roof. Remember, in the end, the decision not to fix a failing roof is likely to hurt you and no one else.
"It's a bad idea," Worters says. "It's a maintenance issue, and if you don't maintain your home, it is susceptible to further damage on the interior."
Worters acknowledges that replacing a roof can be costly, but still believes the expense is worth paying.
"New roofs have new protections that older roofs don't have," she says. " And that's a really important thing, not only from an insurance perspective but also a loss to the homeowner."
In other words, if your roof is in too bad of shape to get homeowners insurance coverage, it's time to get quotes for roof replacement.
Frequently asked questions
Which other factors related to my roof can impact my insurance costs? 
The age of your roof is not the only factor your insurance company will weigh when setting your homeowners insurance rate.
The condition of your roof — even if it is not especially old — will have a big impact on the rate you pay. So will the shape of the roof. For example, hip roofs usually handle windstorms better than gable roofs or flat roofs, which can net you a lower insurance rate, particularly in areas susceptible to hurricanes.
The material used to construct the roof also may play a role in the price you pay. For example, materials such as metal and slate are considered more durable and thus may get you a lower rate.
Should I hide my roof damage from the insurance company?
It is a mistake to try to fool your insurance company into believing your roof is in better shape than really is.
Any time you intentionally misrepresent something to your insurer, you are potentially guilty of insurance fraud. It is always best to be upfront and honest with your insurer.
Can a roof replacement lower my insurance costs? 
Yes. If you upgrade to a new roof, contact your insurer and let it know. A newer roof provides your home with better protection, and that fact might cause your insurance rates to fall.
You might even contact your insurer prior to replacing the roof to learn exactly what type of material will net you the biggest discount.
Does homeowners insurance cover roof replacement?
If your roof needs replaced due to a covered peril, a standard homeowners insurance policy should cover it once you've paid your deductible. If the insurance company determines the damage is due to normal wear and tear, or neglect, they may not cover the roof replacement.
Related Articles