Whether it's behind the washer, above the ceiling or under the sink, a little drip can lead to big trouble.
Water damage happens quickly and can be expensive to fix. Ignore a leak, and you not only could you have a mighty mess on your hands, but your home insurance probably won't bail you out.
Home insurance isn't designed to cover damage from normal wear and tear or from neglected maintenance. It also doesn't cover damage from weather-related floods — you need a separate flood insurance policy for that.
Key Takeaways
Home insurance is not designed to cover damage from normal wear and tear or from deferred maintenance, but for sudden events, such as a leak from a ruptured appliance hose.
A standard home policy also does not cover weather-related flooding.
Each year, about one in 50 homes have a claim for water damage, which can lead to mold.
In most states, home insurance covers the cost to clean up mold as long as it was the result of a covered peril and was hidden as it grew.
Prevent water damage by periodically checking behind appliances and under sinks to be sure everything is dry.
"What's really important to know for leaks is when did the insured notice it and take action," says Christine G. Barlow, a Chartered Property Casualty Underwriter and managing editor of National Underwriter and FC&S Online, which interprets insurance policies for the industry.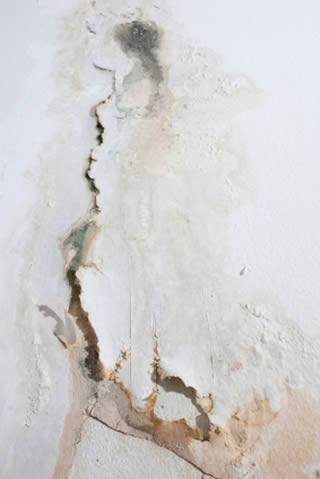 According to the Insurance Information Institute, about one in 50 homes have a claim for water damage or freezing, which can lead to mold, each year. That accounts for the second largest amount of home insurance claims. Wind and hail claims topped the list for claims as about one in 40 homes have a claim for that each year.
Freezing claims include damage caused by such things as ice dams, frozen gutters and frozen pipes. Other common causes of water damage include ruptured appliance hoses, leaky icemaker water lines, leaky pipes, leaky roofs and improperly sealed windows.
The average cost of a water-damage and freezing claim was nearly $11,000. That includes the cost of cleaning up mold, when mold remediation was covered. Generally in most states home insurance covers the cost to clean up mold as long as it was the result of a covered peril and remained hidden as it grew.
Mold needs three things to thrive: the right temperature, a food source such as wood or drywall, and water. A leak provides a crucial ingredient.
Houses like Saran Wrap
"People now build houses to be airtight," says Will Southcombe, regional director of PuroClean, a property-damage restoration service. "Houses are wrapped in plastic like Saran Wrap. That's good for energy conservation, but if water gets on the wrong side of that plastic, then mold will follow, as certainly as night follows day."
Southcombe observes that damage often occurs after people get security systems installed. Holes are drilled into airtight window frames for wires to run through them, but they aren't properly caulked and sealed, allowing water to slowly seep in over time.
"You notice that maybe the wall below the window is looking funny, and by that time the framing behind it is rotted out," he says. If the homeowner reports the problem right away, it would likely be covered by home insurance.
'Sudden and accidental'
Today's houses also have more bathrooms than those built decades ago, and the washing machine may be located next to the master bedroom on an upper floor for convenience, Southcombe notes.
"That means you've got more pipes, and if the washing machine leaks, it can affect the third floor, the second floor, the first floor and even down to the basement," he says.
For water damage from leaky appliances or pipes, the damage must be "sudden and accidental" in order to be covered by insurance – such as a pipe that bursts while you're washing clothes.
But what about a slow leak you can't see?
Say, for instance, a pipe behind a wall leaks, and you don't notice it until water starts seeping through the wall. Are you covered?
Most likely the answer is yes, as long as you take action as soon as there is evidence of the leak, Barlow says.
"Nobody expects you to tear out your drywall now and again to check the pipes," Barlow notes.
So insurance companies understand it's impossible to know you have a hidden leak until the damage becomes apparent.
The same goes for leaks behind and under appliances, or above a ceiling. If you can't see the leak, you can still make an insurance claim as long as you report it when it becomes apparent.
Don't expect much sympathy if you ignore the wet spot in your ceiling, only to report it when the problem gets worse. The insurance adjuster probably will be able to tell if the damage is fresh.
"If the insured had a leak in the roof and had a pot under it for six months, then that damage is not covered," Barlow says. "Professionals are pretty good at seeing whether a wet spot has been there for a while. Sometimes they have engineers go out to look."
When it comes to insurance coverage, everything depends on the language in your policy. Although most policies cover damage from leaks as long as you responded quickly, language among policies differs.
Keep in mind, though, that while home insurance may cover the water damage to the ceiling, floor, walls or furniture, it won't pay for replacing the worn-out pipe or the leaky roof (unless the roof was damaged by a covered peril, such as hail or a fallen tree).
What about a leak in a water line outside the house? If the water flowed back to the house and damaged it, then home insurance would cover it. But otherwise there would be no coverage; home insurance would not cover the cost of repairing the water line.
Preventing a water disaster
Southcombe suggests making sure all holes are properly caulked and sealed and keeping eaves and downspouts clean. He recommends periodically checking behind appliances and under sinks to make sure everything is dry. That means actually moving out the stuff that's been sitting under the kitchen sink for the last several years.
Be careful when pulling out the refrigerator to check for a leak in the icemaker water line. Avoid running over the water line or crimping a copper line.
Southcombe also suggests replacing rubber supply hoses to appliances with braided hoses, which are made of rubber surrounded by wire mesh. Braided hoses can still spring a leak, but they won't burst.
"So you have a nuisance on your hands instead of a catastrophe," he says.
Generally you should replace water supply hoses on appliances every five to seven years.
When was the last time you replaced yours?
If you're in the market for new homeowners insurance, Insure.com annually ranks the Best Home Insurance Companies based on surveyed policyholder feedback. Check on the reviews and receive multiple rate quotes to find the company that best fits your needs and budget.
Related Articles