Sometimes. Mold caused by negligence is not covered, but mold caused by sudden and accidental water damage is.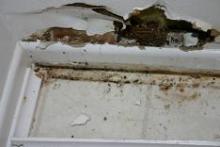 While mold removal isn't typically covered by homeowners insurance, if the mold was caused by a covered peril in your policy, your homeowners insurance will pay for it. Covered perils usually include sudden and accidental water damage. But water damage that happens over time or due to neglect is not a covered peril.
If a claims adjuster determines that the mold is there through your negligence, you will have to pay for any repairs and cleanup yourself. If the mold is caused by a bad storm, it'll most likely be covered. Still, check your policy, because every policy is going to be a little different.
Key Takeaways
Some home insurance policies cover mold that is caused by a covered peril.
Insurance policies will not cover mold that is the result of a maintenance issue. For example, if there is mold due to a pipe leak or humid climate.
If you find mold in your home, the best thing to do is to call a company that specializes in removing mold.
As a public adjuster, Matthew Blumkin, CEO and managing principal of The Greenspan Co./Adjusters International in Encino, California, has seen numerous home insurance claims relating to mold.
But will insurance companies pay for these advisors and their suggested repairs? According to Blumkin, it depends on how much coverage you purchased when you bought your policy.
He suggests sitting down with your agent or broker to understand the coverage limits for mold remediation. Generally, policies offer no coverage for mold due to maintenance issues. For example, don't expect insurance to help if you had a pipe that leaked for a while and caused mold, or if you have mold due to a humid climate.
"It can get expensive to repair mold, so the more help homeowners can get in covering those costs [through insurance], the better," says Blumkin.
If you do have mold coverage in your home insurance policy, Blumkin advises you to make sure that only the additional cost for mold remediation above what would normally be charged if mold were not present is applied toward your policy's mold limitations, rather than the full repair cost.
For example, if restoration crews are cutting out wet or burnt drywall, only the additional cost for handling moldy drywall rather than regular damaged drywall should be placed into the mold remediation category.
Is mold insurance worth it?
Yes. Mold is very dangerous and it is important to have safeguards in place against it. But, your homeowners' insurance may cover mold remediation, and you may want to check your homeowners insurance policy before buying a separate policy.
As a rule of thumb, mold cleanups tend to be covered by homeowners insurance if mold happens because something went wrong, such as pipes that burst. If you haven't been taking care of your home, however, you will not be covered.
How to prevent mold
Keep your rooms cool, dry, and clean. Problems usually occur when rooms are damp or there's not a lot of airflow. Furniture in a basement or attic is also at a high risk of getting moldy due to lack of use. Continuous upkeep is the best way to protect against mold.
What do you do if you have mold in your house?
Clean up the mold as soon as you can.
According to the Centers for Disease Control and Prevention, "mold can be removed from hard surfaces with household products, soap and water, or a bleach solution of no more than 1 cup of household laundry bleach in 1 gallon of water."
You can — and probably should — call in a specialized mold removal service to perform this task.
Blumkin says that when water or moisture damage is not cleaned up quickly, such as after wildfires and other natural disasters, the situation gets even worse.
"We find that time is the biggest problem resulting in a mold claim. The longer it sits, the more it grows. The more it grows, the harder it is to deal with," he says.
How long does it take to detox from mold?
You should always consult a doctor for health questions, such as recovering from mold. If you feel you have allergies, asthma, or other symptoms due to mold in your home, other than getting your mold cleaned up, your first priority should be seeing a physician. Your doctor can tell you how to treat yourself for any mold-related illness and how long it'll take you to detox from mold.
What are the signs of mold in your house?
Mold can be found anywhere – on and under carpets, in crawl spaces, on your walls, on your shower curtain. Generally, it's going to be greenish to very black spots that you'll be looking for, though mold can also be white, orange and purple. If you see a part of your house that looks like it has a rash, that's probably mold. If you're in a room where it's often damp, that's another telling sign that you may have mold lurking about.
How do you know if mold is behind drywall?
If mold is behind drywall, there are usually some pretty clear signs. For instance, does your wall smell odd? Do you seem like you're allergic to your own house? That is, you have red eyes, and you're sneezing inside a particular room or your home – but you feel better when you leave? Does the wall feel wet or have a stain that looks like mold? These are signs there is mold behind the drywall.
How do you tell the difference between black mold and regular mold?
Black mold tends to be slimy or wet. If it's in its early stages, it may feel like powder. Side note: Wear gloves before touching any mold.
If you're looking at your wall and thinking, "I can't clean this. I'm going to have to replace this part of the wall," you're probably staring at black mold. If you're thinking, "Some cleaner and a few rags should get this out in no time," you're probably looking at regular mold.
You don't want black mold, which spreads fast and can be toxic, and you should wear a mask while around it.
If mold occurs in your home due to an accident or sudden water damage, it'll likely be covered by homeowners insurance. But because mold isn't covered by gradual damage, you should regularly maintain your home and keep it dry and clean. Mold in a home can be a dangerous health hazard and expensive to repair.
Read more: How to make mold insurance claims
Related Articles