Read the Spanish version: ¿Qué hacer después de un accidente de auto?
Life can get very complicated in the aftermath of a car accident. Remember to remain calm.
Questions about injuries, car repairs, talking to the police, and filing an insurance claim — not to mention the scare-induced adrenaline rush — bombard your senses and can leave you incapable of making a clear decision. That's why it pays to know ahead of time how to deal with insurers after a car crash.
Just the facts, ma'am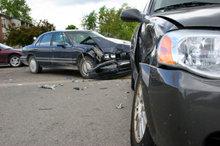 The first thing to do at the crash site is to determine the extent of driver and passenger injuries. If the accident is a fender bender, emergency medical care might not be necessary. However, when in doubt, call an ambulance.
If your first phone call was to emergency care providers, your second call should be to the police. The police will advise you whether it's required to move the crashed vehicles from moving traffic, and an investigating officer will take statements of the drivers and passengers involved.
Even if the facts of the accident are embarrassing or detrimental to you, tell the truth. If you alter your story later or you don't disclose pertinent facts, the car insurance companies involved will find out. That could come back to haunt you; the insurer can deny coverage or shift more fault to you.
It's not your place to accuse another party of being at fault, so limit the statement to the facts. By the same token, you should avoid saying "I'm sorry" because that can be interpreted as an admission of fault. The insurance companies and the investigating police officer will determine who is to blame.
Make sure to exchange insurance information with the other drivers involved. If another driver gives you an insurance ID card, check its date to confirm coverage is in force. In addition, get names and phone numbers of witnesses.
The basics to gather at the scene of the accident:
Other driver's name and address
Other driver's insurance company name and policy information
Statements and contact information from witnesses
The other driver will also want to collect your information, so be prepared to share. Don't fight about who is at fault but exchange information and be cordial. The police will assign any traffic tickets and insurance companies will make their own determination of fault, which may not match law enforcement's assessment.
Although it's not your job to investigate the accident, getting witness contact information can make the insurer's and investigating officer's jobs easier. Remember to also get the investigating officer's contact information for future reference. His report is not available at the accident scene.
A picture is worth a thousand words!
Nearly everyone has a cellphone with a camera in it. If you don't, find a single-use camera to keep in your car. After an accident, a snap photos of both vehicles. Also take photos of the accident scene and damage to the vehicles as they help explain what happened in the accident. That can be very helpful if there is a disagreement over who is at fault.
These photos can protect you from a claim by the other party that the damage to their car was more extensive than you reported. Also, the pictures can help you with your own insurance company in documenting the damage to your vehicle.
And if a pictures is worth a thousand words, a video of the accident may be worth five thousand. If you have dashcam video of the accident, be sure to save it and be ready to share with the insurance company, and possibly police if you believe actions by the other driver should be known by law enforcement.
Who to call?
Your car insurance policy requires you to inform your insurer when you've been involved in an accident. As soon as you are able, you must call your insurer and file an accident report. You also should notify the other driver's insurer of the accident. The insurance companies involved will then begin an investigation of the accident in order to determine who's at fault.
A good way to notify your insurer is by calling your agent, especially if the accident is minor. Minor property-damage claims can be settled fairly quickly. However, if the accident involves injuries and major property damage the claim process may take more time as the cost of repairs and medical treatments need to be assessed.
If you are making a claim through your own insurance company it is called a first-party claim. You'd normally make a claim with your own insurer if you were at fault and using your collision coverage for your vehicle or uninsured motorists for your injuries or vehicle if the at-fault driver was driving without insurance. Also, if you lived in a no-fault state and were using your personal injury protection for your injuries, regardless of fault.
If the other driver was at fault, and insured, then in most states you'd normally place your claims for injuries and vehicle damages against that person's liability coverage. This is called a third-party claim.
Whichever company you make your claim with, which is easy to do by just reporting the accident and asking to start a claim, is who you will deal with for in the claims process. Typically, you will be assigned a claims adjuster who will investigate the claim and assess the damages and work on settling the claim with you.
It's imperative for you to ask the adjuster for a copy of the complete claim file — Post-it notes and all — because, increasingly, insurers are destroying documents in an effort to move to a "paperless office." Insurers make mistakes from time to time, and it's possible that you could be charged higher car insurance rates after an accident even though it wasn't your fault. If you don't have a copy of the claim file, it's unlikely your insurer will have the documents by the time you catch the surcharge — sometimes weeks or months after the accident.
Medical and car care
You have a right to seek what you deem as appropriate medical care. An auto insurer cannot direct you to a certain medical provider unless you've signed for a preferred provider organization discount. Keep in mind, however, that embellishing your injuries or seeking unnecessary treatment raises red flags for insurers: Be prepared for a letter from the insurer saying it won't pay all of the medical expenses if you've sought extensive treatment for a minor injury.
In addition, don't give up your right to choose an auto-repair facility. Finding a repair shop that performs quality work independent of insurers can save you the hassle of haggling over repairs or procedures not performed at insurance company direct-repair shops (DRP). While many DRPs perform quality repairs, they sign agreements with insurers to give discounts on parts, labor, and procedures in exchange for a steady stream of crashed cars. In short, the DRP might not be acting in your best interest.
Do I need a lawyer after an auto accident?
Hiring a lawyer is not required after you've crashed into someone, but there are some scenarios in which seeking legal counsel is a good idea. If you've been seriously injured in the accident, and don't feel you are getting proper compensation you may decide to turn to a lawyer for help. This may keep the lines of communication open between you and the insurance company and help you receive a fair settlement.
Proving to another driver's insurer that its policyholder caused the accident might happen. In order to prove the other driver is at fault, you may have to show what the rules of the road are in the accident scenario, that the other driver disobeyed the rules of the road, that the driver's negligence caused the accident, and that the accident caused harm to you or damage to your car. That might seem simple, but for major accidents may requires substantial time, research, and knowledge of the law. If this isn't you, you may want a lawyer for help if you feel you aren't being treated properly by the insurance company.
If you live in a no-fault state and you've been injured in an accident, you will make your claim under your own car insurance policy for reimbursement of medical expenses and lost wages. However, in most no-fault states, you still can make a claim for damages to your car under the at-fault party's insurance.
One other situation that could send you to a lawyer's office is when you've not been able to collect any insurance benefits within 30 days of the accident. That's a signal of big trouble: Either the insurer is getting ready to litigate against you or you have not effectively communicated with the insurer. In both cases, an attorney could be helpful.
Four-point plan
The critical points to remember to ensure a smooth insurance claim after an accident are:
Be honest with the insurance companies, even if the facts of the accident seem to weigh against you.
Know where you are going for medical treatment and car repairs.
Obtain as many documents as possible to support your claim.
Stay calm and stay the course to get a fair settlement
Related Articles