Insurance company apps usually help you file claims and get quotes.
But along with those are some unexpected offerings well outside the bounds of policies and premiums.
Here's a look at 10 of the coolest apps from insurers.
1. State Farm's Driver Feedback
Want to know how well you're driving? Using your phone's GPS and accelerometer, this app gives you scores for acceleration, braking and cornering and an overall score for every trip you record. The higher the score, the better your driving.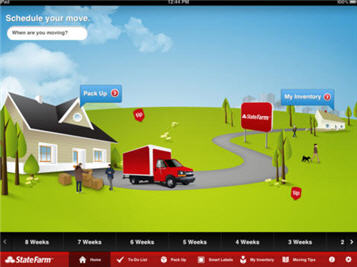 State Farm's Move Tools
Why score those specific driving moves? According to the National Highway Traffic Safety Administration, hard acceleration, hard braking and hard swerves are three of the riskiest maneuvers a driver can make. Only you see the scores — the insurance company does not collect any of the information, and the data does not affect your car insurance rates.
2. Fuelcaster by Esurance
Fuelcaster helps you figure out the cheapest times to fill up. While other apps show you current gas prices, Fuelcaster predicts whether prices will go up or down in the next 24 hours. Use your phone or any device with Internet access to go to Fuelcaster.com and enter a ZIP code. Fuelcaster then tells you whether to buy or wait, based on what gas prices will do. It also lists up to 10 gas stations with the lowest prices in the area and tells you how much you'll pay now.
"Gas prices can vary by as much as $1 or more from station to station within the same ZIP code, so choosing the right station really matters," Esurance spokesperson Danny Miller says. "A consumer that uses Fuelcaster can potentially save themselves $20 or more per fill up, which can add up to $1,000 or more over the course of a year."
3. Allstate's GoodRide
The free motorcycle app lets you track your route, time and miles for every ride and store comments and photos. It also provides tools to plan rides, find gas, get a weather forecast, keep track of maintenance, keep a record of new and aftermarket parts you add to your motorcycle and call for roadside assistance. You can also set alerts for when your bike is due for service.
4. MetroMile
The app by the San Francisco-based insurer of the same name works together with the company's plug-in device for usage-based car insurance. Besides providing driving stats and figures for the cost of gas for each trip, the app locates your car if you've forgotten where you parked. And, if you're in San Francisco or Chicago, it helps you avoid parking tickets by sending you automatic reminders to move your car if it's parked in a street sweeping zone in those cities. That feature will become available in additional areas in coming months.
5. State Farm's MoveTools
With this app, you'll never misplace a toaster, or anything else for that matter, the next time you move. Designed for the iPad, MoveTools provides weekly checklists of moving tasks, and lets you go room to room on an interactive screen to virtually pack up all your things. You create and print your own packing labels for boxes, and the app keeps an inventory, so you can search for and find any item in case you lose track.
You can also add notes about the value of your stuff — handy information for estimating how much home or renters insurance you'll need — and you can get moving advice through the app's interactive articles and graphics.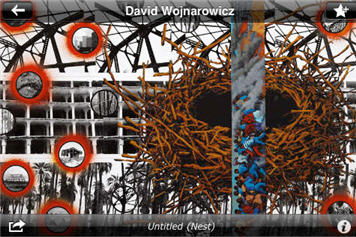 Progressive's art app
6. Progressive's Art App
Your car insurance company probably isn't the first thing to come to mind when you think contemporary art, but Progressive has one of the largest collections in the world. This app lets you explore the company's diverse selection of works, zoom in to see details, create a gallery of your favorite pieces, share artwork with friends and learn about the artists, including Francis Alys, Kara Walker, Vik Muniz, Cindy Sherman and Yoshitomo Nara.
"Progressive's art collection reflects our company culture, which encourages the pursuit of innovation and change, and challenges our natural inclination to remain inflexible in the face of an ever-growing need to be open to new ideas and alternative perspectives," the company says.
7. Security First Mobile
Besides letting you manage your home insurance policy and report claims, the app features a Storm Center, which provides hurricane tracking, Red Cross emergency shelter locations, evacuation routes and links to disaster-recovery resources, as well as hurricane facts you should know. An interactive hurricane preparedness checklist helps you keep track of supplies as you shop. You don't have to be a customer to use the app.
8. MetLife Infinity
This app lets you create a digital legacy. You can upload practical items that your loved ones need now or will need in the future, such as important documents and details for accessing accounts. You can also upload photos and videos to share heartfelt memories and messages of love to family members or friends whom you designate to have access.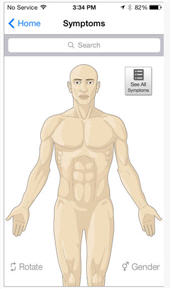 Aetna's iTriage
9. HumanaFit
The health insurer's app helps you chart your progress and stay motivated in your quest to shape up. Features let you map your walk or run route, track distance using your phone's GPS, record your time, pace and splits, and keep a historical training log. You can also use your phone's contact list to connect with friends who are using the app.
10. Aetna's iTriage
Created by two emergency medicine physicians, iTriage was acquired by health insurer Aetna two years ago. The app lets you search symptoms and learn about potential causes and the most appropriate treatment. You can also search for information about medications, diseases and conditions and find the nearest facility for treatment — from doctor's offices to hospitals to substance-abuse clinics. The app gives you access to emergency hotlines and nurse advice lines, lets you check in from your phone when you're on the way to an emergency room or urgent care clinic and check average wait times for those facilities.
You can store information about your insurance, doctors, medications and conditions and view your personal health record.