Big and tall vehicles are the bulls in the china shop of the contemporary motoring scene.
The list of 2014 vehicles that cause the most property damage, just released by Insure.com, is proof: It comprises massive pickup trucks and larger sport-utility vehicles. The common element in all these vehicles is a bumper that does not match up with the bumpers found on passenger cars.
Workhorses like the Ford F-250 pickup truck and large SUVs like the Infiniti QX80 generate the biggest property damage claims and thus the heftiest liability insurance bills of the 750-plus 2014 model-year vehicles analyzed by Insure.com in its annual car insurance comparison study.
Rates for the property-damage liability portion of your auto insurance policy are generally a reflection of claims made against other owners of the same kind of vehicle. Property-damage liability coverage pays when you damage someone else's car or property. Most drivers carry much lower limits on property damage liability than for bodily injury, so that portion of their insurance bills is usually smaller.
Even so, premiums differ wildly from state to state and vehicle to vehicle. A 40-year-old with a clean record would pay $471 a year for $50,000 in property damage liability on a Dodge SRT Viper in West Virginia — and just $22 a year in Michigan, which has a very different set of laws.
Averaging rates nationwide, the Ford F-250 racks up the highest bill at $194 a year and the Porsche Cayman the lowest, at $116.
Worst vehicles for property damage claims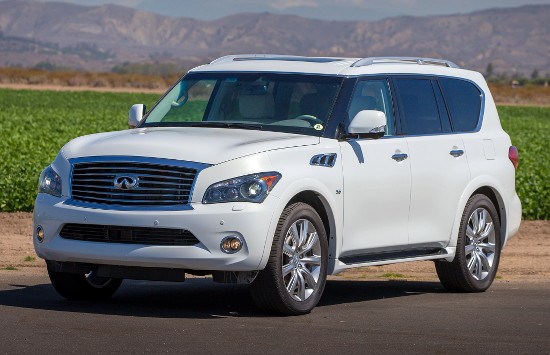 Among vehicles with highest rates for property damage liability: Infiniti QX80
Photo credit: Infiniti
These vehicles carry the biggest liability bills, and thus are likely to inflict the most property damage:
Ford F-250
GMC Sierra 2500
Ford F-350
Ram 1500
Infiniti QX80
Dodge Durango
Toyota Tundra
Jeep Grand Cherokee
Cadillac Escalade
Chevrolet Silverado 1500
Source: Insure.com. See the methodology of our annual car insurance rates study.

Bumper to bumper, or not
Why the mismatch between bumper heights of different vehicles?
"The main problem is that the federal government sets minimum bumper performance requirements for passenger cars, but these regulations don't apply to vans, SUVs or pickups," says Russ Rader, spokesperson for the Arlington, Va.-based Insurance Institute for Highway Safety (IIHS).
Even though the requirements for cars are weak, they do ensure that cars are equipped with bumper systems that generally line up with each other in crashes, some 16 to 20 inches above the ground, Rader says. Pickup and SUV bumpers are higher than that level.
"This means that when cars and SUVs collide, the bumpers can go right past each other," Rader says. "The energy of these collisions will bypass the bumpers and go directly into the vehicle bodies. Even if the bumpers do overlap, they may slide off each other, instead of staying engaged. Either way, the result is expensive car body damage."
Mismatch turns a fender bender into a wreck
How do vehicles' weight, height, bumpers and other features combine to make a substantial difference in the amount of property damage they cause?
Differing heights often result in override and underride situations, says Pete Leiss, head of the crash practice for Lancaster, Pa.-based Robson Forensic, a company that specializes in expert witness services in courts of law. Robson Forensic provides its services to both the legal industry and the insurance field.
Consider a family sedan, riding relatively low at about 16 to 20 inches off the ground. If that car impacts the back of an SUV with a higher bumper, the sedan will suffer greater damage to its headlights, grill, and possibly the radiator and the air conditioner condenser, Leiss says.
A typical override situation is just the opposite, and involves, for instance, an SUV or truck rear-ending a sedan. The bumper of that striking vehicle will travel over the back bumper of the sedan and impact its tail lights and the trunk lid as well as damaging the rear quarter panels, Leiss says.
"In the most severe collisions, we will see the tail lights end up about where the rear seat was prior to the collision," he adds.
"That's not only bad from a property damage standpoint, but the injuries to those individuals in the backseat can be serious if not fatal." (See "Best and worst vehicles for preventing passenger injuries.")
The Insure.com list of those vehicles most likely to cause property damage dovetails with his observations, Leiss says. The list, he notes, is dominated by large pickup trucks that typically feature higher bumper heights than passenger vehicles. "Also, you see the [Jeep] Grand Cherokee, known for its off-road prowess, with very good ground clearance and thus higher bumpers."

Related Articles