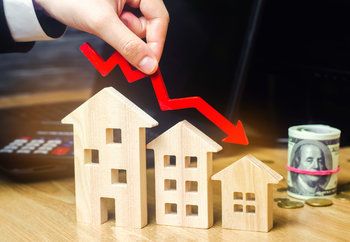 Similar to buying an existing house, a newly-constructed home needs home insurance. However, you'll likely wind up paying less for coverage.
Home insurance companies typically like newly-built homes. They will likely to give you discounts and lower rates for coverage.
"Nearly every home insurance company is going to welcome a brand-new home with open arms," said John Espenschied, owner of Insurance Brokers Group. "Because everything is new, the likelihood of having a (peril) claim, other than with weather, is very low."
Lower rates can help you buy more coverage for less cost. Regardless of the home, you'll want to make sure you have enough protection in case you lose your home in a fire or storm.
"The coverage depends on what it would cost to rebuild your home," said Loretta Worters, vice president of media relations, Insurance Information Institute. "It doesn't differ from an older home."
What home insurance covers
Before diving into home insurance for a new structure, let's review what home insurance covers. A standard homeowners insurance policy includes:
Dwelling Coverage: This portion concerns your home and attached structures, such as a garage. This part of insurance handles covered perils, such as fire and smoke damage, windstorms, hail, lightning strikes, vandalism and malicious destruction. Beyond the physical structure, dwelling coverage takes care of issues related to wiring, plumbing and heating and cooling systems.
Other Property: This part covers structures that aren't attached to your home, such as a detached garage, a shed or a fence.
Personal Property/Contents Coverage: As the name "contents" implies, this covers the property inside the home, including electronics, furniture, clothing and appliances. You can choose replacement value coverage of actual cash value. The former pays you to fully replace damaged and stolen contents. The latter reimburses for what the contents were worth at the time of the loss.
Home Liability: Home liability coverage takes care of visitor injuries on your property. This coverage can extend to taking care of you should an incident happen away from the home.
Additional Living Expenses: This covers you should your home become uninhabitable and you've got to find a new living situation. It's sometimes called "loss of use coverage." ALE coverage steps in to cover you should your home get damaged and you have to live somewhere else (such as a hotel) during the repair time. You can make a claim for ALE, too, if a fire damages your home.
There are many additional coverages, such as sewer backup, identity theft and earthquake protection, that are available to add on the home policy.
How much coverage do you need? There are many factors when calculating a home's replacement cost.
"The age and the type of construction material used will have a significant influence in determining the final premium," said Espenschied. "Factors, such as the age of the roof, updated utilities or plaster versus drywall, all will have an impact on the premium."
Now that we're reviewed the basics, let's talk about buying insurance for a new home.
When should you buy insurance for a new home?
Buying insurance depends on whether you own the land before the home is under construction, and if the contractor is responsible, Espenschied explained.
You're going to need a builder's risk policy to cover you during construction if you're hiring all the trades, buying the building material and acting as the new home's general contractor. Once the build is complete, you can convert your insurance to a regular home insurance policy.
Worters stressed to "make sure you purchase builder's risk insurance" if you are the one in charge of "building" the home.
"It's specifically designed to cover homes while they are under construction, typically covers theft and vandalism of the tools and equipment being used to build the house and materials, including in some cases materials being held off-site for future use," said said. "The insurance doesn't provide liability coverage or any protection for the home's contents since there typically won't be any personal possessions at the construction site."
If you're buying a property from a builder's inventory, you'll need a homeowners insurance policy in place at the time that you take possession of the home.
"Make sure to have home insurance lined up before closing on the new home; premiums can vary from company to company," said Espenschied. "You may own the property, but you've contracted with a general contractor to complete the project from start to finish. They will be responsible for delivering a completed home, and the general contractor would be liable for buying a builder's risk policy. You are paying for a completed home."
Whether it's an older home or a new home, you may want to consider umbrella insurance. An umbrella policy is a liability insurance policy that protects you and your assets from larger lawsuit judgments against you. Umbrella insurance benefits include protection against significant property damage, serious bodily injury liability, landlord liability, libel or slander or malicious prosecution.
If your home and possessions are worth more than $500,000, umbrella insurance can protect your home if you're sued.
Discounts for newly constructed homes
You can often save between 20% and 25% on home insurance for insuring a newly-constructed home. Those discounts dissipate over the years, but they can save you right off the bat.
Insure.com found a newly-constructed home can earn you an average decrease of 35.5%. That's an average $547 savings.
The building materials used for your newly-constructed home also play a role in the discounts and savings. Homes with metal roofs, fire-resistant materials and fire-suppression systems can lead to savings on insurance. Specifically, Espenschied said tile, slate, concrete, metal and even architectural shingles can result in discounts because of quality, durability and fire-resistance factors.
"New homes usually have some discounts or lower pricing on insurance because you have new plumbing and electrical," said Worters.
Discounts differ by insurer. In many states, Allstate offers a "home buyer discount" that reduces premiums for up to five years for customers who purchase a newly-built home. The discount amount varies depending on the home and its location.
"Most new homes are constructed with protective devices, such as deadbolt locks, sprinkler systems or other burglary and fire alarm systems," said Ben Tobias, national media spokesperson for Allstate. "Therefore, we also provide a protective device discount. Homes built with storm shutters may also qualify for a storm shutter discount, as would homes constructed with hail-resistant roofs qualify for the hail-resistant roof discount."
In addition to discounts for new homes, homeowners are eligible for the same discounts as any other person. One of the biggest discounts is to bundle your home and auto insurance. We found that average savings for bundling policies is 19.16%.
Insurers provide other smaller for other reasons, such as loyalty and paying in full.
Things to keep in mind when building a home
Experts say that one of the most significant factors in determining a home's insurance premium is the home's location. Is the property located in a suburb or city or a rural, country property miles from civilization?
"Location, location, location is not only used to determine a home's value but proximity to firehouses," said Espenschied. "One of the first questions when rating a property for coverage is the distance to the nearest fire hydrant and fire station. Generally, this must be within 1,000 feet of a fire hydrant or within five miles of the closest fire department to qualify for preferred rates."
Insure.com found that you can save an average of 3% by living near a fire station.
Espenschied said the term that is often used is "town-class," which is a classification that can range from town-class 1 to town-class 10.
"A town-class 1 would be the best, typically a city property with a firehouse on every corner," said Espenschied. "Anything over a town-class 5 gets a progressively higher premium due to the risk. Volunteer fire departments pretty much guarantee you're going to be a town-class 8-10. When building a new home, it's always a good idea to think about how far you are from the nearest fire station."
When designing your home, a sprinkler system is one addition that can lead to lower insurance costs. A sprinkler system could save your home, especially if you're 10 miles or more from the nearest fire department.
You could also use fire-resistant materials, such as brick versus vinyl siding, or a metal roof versus asphalt shingles. These materials could especially help you if your home is in a heavily wooded area or near a forest.
Building cost differences across the country
Homeowners insurance can vary by state based on material and labor costs. Those costs will play a role in the level of insurance and your costs.
"If you are building in Southern California, the land cost will be five times the cost of a similar lot in the Midwest. Also, because of the continual construction in California, you might find the labor market much tighter and material costs higher, compared to other parts of the U.S.," Espenschied said.
Other factors include proximity to natural hazards, such as floods, hurricanes and brush fires.
"The same size home in Northern California near a national forest can be two to three times higher than the same house in Phoenix, Arizona, which has minimal, if any, hazards — plus lower labor cost. A $500,000, 1,000-square-foot home in Los Angeles will cost the same to rebuild as the same size home in the Midwest worth $150,000. It's the land under the house is what drives the property value, but replacement cost doesn't generally take into consideration the location," he said.
Insurance cost differences by state
Homeowners insurance rates differ greatly by state. Risk factors partly determine this.
A brick home in California will cost you more to insure than the same building in the Northeast. That's because of earthquakes in California. The reverse is true about wooden homes because of hurricanes on the east coast.
Prone to severe storms and hurricanes, Florida has the highest average home insurance rates.
Other states prone to hurricanes (Louisiana, Texas, Mississippi and Alabama) and tornadoes (Oklahoma) are all among the most expensive states for home insurance.
Keep in mind that in some instances, homeowners insurance companies have, and will, deny coverage based on a home being in a high-risk area.
For instance, Todd Teta, chief product officer at ATTOM Data Solutions, curator of the nation's premier property database, was recently affected personally when he was rejected for a homeowners policy in California by one of the largest insurance companies in the U.S.
"It was on an investment home in the same community my primary residence is in, because of wildfire risk," said Teta. "We had a small fire in the community three years ago, no structures destroyed. Mind you, they insure my primary residence in the same community. Insurance companies are outright rejecting entire ZIP codes because of wildfire risk, even in areas they previously wrote policies in."
Whether you're insuring a new home or any other ones, make sure you get enough home insurance to cover you if the unthinkable happens.
Related Articles