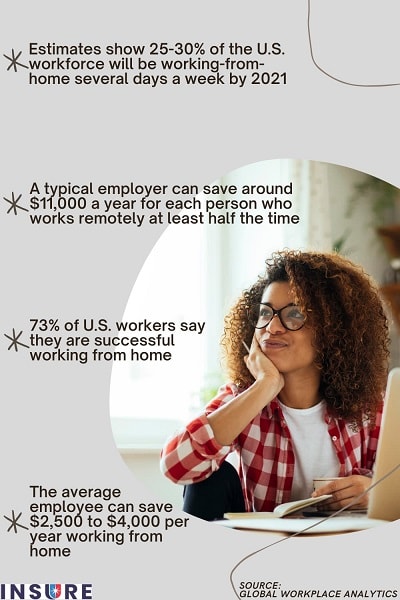 COVID-19 caused many people to change the way they work. Many companies closed their offices and employees were forced to work from home.
Over the years, as more office work became computer-based, and WiFi became a basic utility in most areas, more companies became flexible. Before the pandemic, it was seen as a perk or luxury to land a job with a company that offered this benefit. Even then, remote work in the U.S. increased by 173% between 2005 and 2018.
With the shift and community acceptance of this working standard, more employers also saw the benefit. Employees were happier: Commutes were all but eliminated, making employees more productive. The job fatigue was down, and loyalty to companies was up.
But when COVID-19 hit, working remotely became a necessity, not a luxury.
Employers were forced to find a way to adapt to the pandemic. Even employers who did not look positively upon work from home options before were suddenly seeing it as their only viable option to remain in business.
While many see this transition to remote working as a positive, it's not all champagne and strawberries. There are some important things to consider and possibly, some changes to make. One major consideration is insurance.
Nationwide recently launched a new bundled package of coverage called Work From Home Insurance. The package of auto, home/renters and identity theft coverage is geared to those working from home and not spending much time in their cars.
The bundled package includes usage-based auto insurance, homeowners/renters insurance and identity theft.
Nationwide said the bundled package is available only online and in more than 30 states.
The major insurance company is offering a special bundled package for people who work from home, but many other companies offer other bundles that may work for your situation, too.
Key Takeaways
If you are going to continue working from home, a pay-per-mile insurance policy might benefit you.
Some states require you to have a registered card to be insured even if you are not driving.
You can save money on car insurance by bundling your policies, dropping optional coverage and shopping around.
There is no need to change life insurance policies just because you have changed your work location.
What does working remotely mean?
To understand the insurance implications, a person needs to understand the differences between working remotely and working from home.
Work from home: There is a company office location where you may work part of the time, but you work from home on other days. During the pandemic, many employees are working from home full-time until they can transition back into an in-office setting.
Remote work: You don't have a permanent office in a company location but work full-time from anywhere.
Telecommuting: You work primarily outside of the company office. This is a hybrid between work from home and remote work, as it refers to most work being done outside of the office in any location with the occasional in-office work.
It's important to note that with the uptick in working from home due to the pandemic and its success, many positions might well remain work from home positions, meaning they would technically transition to remote worker status.
And that might be a welcome option for many employees. According to a Global Analytics Survey of 3,000 employees between March and April 2020, 76% of employees worldwide want to continue working from home. Even insurance giant Nationwide has seen the benefits of offering work from home. It is closing five of its offices in Ohio to move to a more permanent remote working atmosphere.
Work from home car insurance
Researchers at UC Davis found that California crashes that killed or severely injured people were down year over a year from 400 to 200 this past spring. These statistics bode well for drivers, as well as insurance companies.
With fewer severe accidents and injuries comes less payout. Because of the decrease in driving and the accompanying lower risk, several major insurers during the first few months of the pandemic offered rebates on auto insurance of 15 to 20%.
Can I get cheaper car insurance if I'm working from home?
If you're in it for the long-haul, a pay-per-mile insurance policy might benefit you. A couple of the larger insurers to offer this type of policy are Allstate and Nationwide.
Typically, you pay a base rate plus a cost per mile that you drive.
"There are few complaints about pay-per-mile insurance because it's relatively simple and straightforward. If you are not driving frequently or for long distances, it can be a great option to save money on your car insurance", says Michelle Megna, editorial director for Insure.com
For those temporarily sidelined to the kitchen table due to the COVID-19 pandemic, it won't make much sense to change your policy. Once you start your regular commute again, the per-mile fees would add up.
Something to consider: If you choose the pay-per-mile route, you agree to let your insurer plug a device into your onboard diagnostics system to track your mileage.
Another option is to take the low mileage discount if you drive less because you're working from home. This type of policy will give you a rebate at the end of the year based on the number of miles you drive. In 2018, the average United States driver clocked more than 13,000 miles per year to provide you with an idea.
If you are a low-risk driver, you could opt for another type of usage-based insurance, like Progressive's Snapshot. Once again, a device is attached to your onboard diagnostics panel and tracks the number of miles you drive and how you drive. How many times do you brake hard? How many times do you accelerate to a higher level of speed? All these actions culminate into a report sent to your insurance, and your rate is based on that.
Should I cancel my car insurance if I'm not driving?
Even if you are not driving, there are laws in some states that require a registered card to be insured. If you don't live in one of those states, and you still think you won't be driving, consider that comprehensive insurance would cover natural disasters, fire, and theft even if your car were just sitting in your driveway and not being driven. Canceling insurance could be a costly mistake.
Typically reserved for situations such as military deployment or traveling for long periods, suspending your auto insurance is a possibility in some states. However, working from home doesn't mean that you would never need your car. If there were an emergency and you had to drive it, fines could be levied against you, and if you were to get into an accident, you would be held responsible for out-of-pocket payment
Another important consideration is that having periods where you are uninsured, also called a coverage gap, might result in higher rates in the future when you need to get car insurance again.
Are there other ways to save money on car insurance?
If you are starting to work from home and know you're going to be driving less, the risk of getting into a crash will be lower, so you might be able to take your chances with a higher deductible.
Other ways to save on car insurance include bundling your policies, dropping optional coverages and shopping around. We recommend that you shop around at least once each renewal period, whether your driving situation has changed or not.
Another great way to save on your car insurance is to ask your insurer about discounts. We already mentioned the possibility of a low-mileage discount, but there could be others you qualify for as well.
"Even if you've been with your insurance company for a while, it doesn't mean you are necessarily getting all the discounts you're eligible for. Ask your agent to see if there are any you are missing out on," says Penny Gusner, senior consumer analyst for Insure.com. "You can also discuss any changes your agent may suggest to your policy."
You might be thinking about lowering some of your coverage limits to save money. If your car is older, it may be worth inquiring about reducing your comprehensive and collision coverage. However, experts do not recommend lowering liability coverage.
"Most drivers will not want to lower their liability coverage, as it doesn't cost much more to have higher limits, and when you are on the road, it is important to have limits that will protect your finances by covering more if you cause an accident," says Gusner.
Home insurance for remote work from home
Homeowners insurance seems straightforward: it would cover things that happen in your house. But it's not that simple when home life crosses paths with work-life — literally.
Those who work out of their house for any amount of time run the risk of personal or property liability. Who covers that? Who covers a laptop that cracks? Or when you trip over the extension cord in your home office?
The answers depend on which category your work falls into, self-employment or full-time telecommuter.
Self-employed vs. full-time employees
Unlike remote employees, contractors or self-employed individuals are sometimes not covered by homeowner's insurance.
One significant difference between full-time employees — remote or in-person – and self-employed is the insurance coverage you get.
Full-time employees have the benefit of their employer's insurance coverage. Business items such as laptops, phones and other devices are covered. Even injuries are typically covered under workers compensation.
But if you work for yourself, you are responsible for this coverage. You will need coverage for your business property on and off your premises, business liability injuries, or lost revenue when a covered incident temporarily forces you to close your business.For these, you should take out a business insurance policy.
Make sure if you are a full-time employee who also contracts on the side, that you separate your full-time employment property and your contracting business items. If you ever have to file a case, you want to make sure you're organized enough to know whether you need to file with your employer or with your personal insurance.
Do I need to change my home insurance coverage if I'm working from home?
Homeowners insurance covers your personal property when used for personal reasons. This is not to say that some business items are not covered. Instead, it is to say there are limits on the business coverage.
Let's take a laptop, for example. If it is damaged while in your house and is a business computer, most insurers will cover up to a certain amount for a replacement. However, suppose you got bored with the scenery and decided to run down to the outside café on Main Street and dropped the laptop on the sidewalk. In that case, the chance of you getting an insurance payout to replace the laptop is unlikely.
If you are a full-time employee working remotely, chances are you have more coverage through your employer. But to be safe, you want to ask your human resources department what the coverages are, so there are no surprises. If you find the coverage is not as much as you would like, you can take out an endorsement to increase the coverage. A $2,500 replacement coverage would probably cover your iPhone, but if a fire happened and all of your devices were damaged, that $2,500 would not go far and it would be better covered with a higher endorsement.
If you have foot traffic or employees coming in and out of your home office, it's probably best to take out a business policy.Much like if you are self-employed, as we mentioned above, a good business policy would include business liability, business property and lost revenue.
How can I get cheaper home insurance?
The best way to lower your home insurance cost is to bundle it with your auto insurance. Insurers like loyalty and they like having more business.
Other possibilities include calling the insurance company and letting them know if you had a security system installed or a new roof put on or increasing your deductible to lower your premium. And don't forget to ask about discounts.
As with auto insurance, it is wise to shop around for home insurance at least once each year. Sometimes, merely switching home insurance providers can save you money.
Health insurance for the telecommuter
All signs point to a correlation between businesses that offer health insurance to all employees and employee retention and happiness. With the recent COVID-19 pandemic, more workers conduct business from their home offices. While this is good for their physical health because of less exposure to germs and commuting stress, this is also good in terms of money. The employee is spending less money, and consequently, so are the employer and health insurance provider.
And although some virus and bacterial illnesses are down, other issues have gone up. Ergonomic, eyestrain and mental health issues have all seen increases.
Eyestrain can be attributed to a higher screen time for all ages, whereas poor home office setups are to blame for ergonomic and muscular-skeletal complaints. Mental health issues are tied to anxiety around the pandemic and the blurred line between working from home and finding time for family and fun.
You may find that your health insurance needs do not change at all due to working from home or working remotely, but this is something you reevaluate during your next health insurance open enrollment period.
Life insurance and working from home
There's not necessarily a need to change life insurance policies just because you change where you do your work. However, there have been changes to new life insurance policies since the pandemic.
AARP said the COVID-19 pandemic presented a few challenges to the industry. First, many policies require an in-person medical exam to be approved, which couldn't be done at some points during 2020. That slowed down the process for new life insurance policy applicants.
Insurers have raised premiums since the start of the pandemic, and many have added questions to applications about contact with COVID-19. If you don't already have your life insurance lined up, you can use this life insurance calculator to get an idea of how much coverage you should get.
Is there a work from home discount?
Though insurance companies have not yet begun to offer a specific work from home discount, James Surrey, founder and chief editor at Review Home Warranties says they should.
"Carriers should definitely offer a work from home discount. With more people working from home, early adopters of the policy can attract new customers and increase retention from existing clients eligible for such discounts. People are looking for ways to save more than ever. The bills are going to be among the first places they look.
With the home and auto insurance being typically the higher bills, this is one of the first areas they'll explore for a possible discount."
So, be on the lookout just in case your insurance provider starts offering a work from home discount, specifically on home and auto insurance.
The bottom line on remote work and insurance
The COVID-19 pandemic has changed many things, and your insurance needs may be one of those things.
If your work situation has changed — because of the pandemic or otherwise – make sure you inform your insurance agents. With the right information, they can help to make sure you're covered and steer you toward as many discounts as available based on your situation.
Related Articles