Safes are suddenly fashionable. They're not just dull, gray, square boxes — many are pieces of art, cleverly designed decoys, or a combo of stealth and sturdy.
People are stashing their cash and valuables in home safes for a variety of reasons. Perhaps they don't trust the banks, or think the banks might fail. Other savers may be leery of the stock market. And then there are nervous Nellies prepping for the end of world who want to have cash on hand when the calamity comes.
Whatever the reasons, these people feel that a home safe is the place for their cash, gold, jewelry and other treasures. While the standard, no-fuss safe can be purchased from the hardware store for $50, fancy safes can run into the thousands and even tens of thousands of dollars for the 1 percenters who spare no expense for the luxury of being able to sleep soundly.
But is it all for naught?
"People need to wake up. They think they are protecting themselves, but they may actually be putting themselves at more risk," says Michael Kresh, a Certified Financial Planner with Creative Wealth Management in Islandia, N.Y. "Sure you want to have some cash at home, but more than a little feels unsafe," he says.
Not very safe after all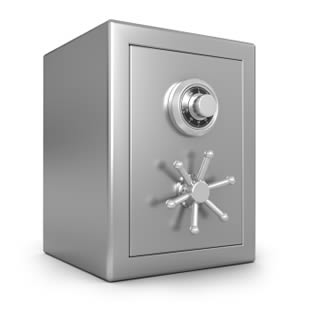 Quite simply, keeping cash, gold, jewels or any important documents in a home safe is not a secure choice, says Ted Sarenski, president and CEO of Blue Ocean Strategic Capital in Syracuse, N.Y.
For starters, some small home safes that state they are fireproof are not necessarily so. In addition, the heat in a house can get so intense that the contents of the safe will be destroyed without an actual fire getting inside, says Sarenski.
And the mere presence of a safe in your home can be an invitation to thieves. Typical home safes are not so large that they can't easily be stolen by someone who is aware the safe exists.
"Are you putting a target on your back?" asks Rich Arzaga, founder of Cornerstone Wealth Management in San Ramon, Calif.
If your safe is stolen, don't assume your insurer always will have your back when goodies are destroyed or pirated away by bandits. "There are limits on recovery from home insurance claims," cautions Nick McCummings, manager of the Harrington Insurance Agency, which has offices in Massachusetts.
For example, standard home insurance policies generally protect money, gold and silver. Check your policy for the limits though – it might be as low as $200. Even the carriers that market to the affluent may max out coverage at $2,500 per loss for those items, says R. Todd Rockefeller of DeRosa, Rockefeller, Sohigian & Werdal in Harrison, N.Y.
Standard industry jewelry limits range from $500 to $5,000 for top carriers.
Additional coverage for jewelry can be purchased easily. You can get an insurance rider, floater or endorsement. Ask your agent which is best for you. Jewelry can be itemized and scheduled for a value upon which you and the insurer agree. Coverage is worldwide, no deductible applies and loss by mysterious disappearance is included, says Rockefeller. Blanket limits can also be purchased. Such a limit is a bucket of coverage to claim lost jewelry items, generally up to $10,000 per item, he adds.
Insurance claims for theft
Even with home insurance coverage, don't expect the claims process to be a breeze. You'll need proof. You've probably heard the advice plenty of times: Keep detailed records of what is in the safe. That means you need receipts, invoices and pictures or video of your items. For really expensive items like exquisite jewelry, an appraisal stating its value is a worthwhile investment. Remember to update your inventory list — not just for yourself, but for your insurance company.
The documentation you provide will have a direct bearing on the ease of the claims process. If you're making a claim for theft of cash, ATM or banking transaction receipts are excellent, says Kevin Lynch, an assistant professor of insurance at The American College in Bryn Mawr, Pa. But even that may not be good enough for some insurers.
"Say you had $5,000 cash stolen: The insurance company will want proof. Even if you went to the bank and withdrew $5,000, if it wasn't stolen on that same day, the insurance company could question you about how they could be sure you didn't spend the money," says Lynch.
Also, do the math. Is it worth filing a claim? One theft claim typically won't jack up your premium when it's time to renew your policy. But that rule doesn't always hold.
"In many instances, even one claim may increase your premium upon renewal. I always advise my insureds about the risk of an increase versus filing a claim. If a policy is increased by $250 for three years for a $500 stolen cash claim, then I would advise against the claim. The increase is actually more over the three-year period than the recovery of the $500," says McCummings.
Multiple claims could cause you to be nonrenewed and lead to difficulty in securing future coverage, says Lynch.
Consider, too, your deductible. If $700 in jewelry was stolen and your deductible is $500, that $200 may not do you much good. "Save the claim for a larger, more catastrophic loss for which insurance was designed," says Rockefeller.
The final analysis
All of this begs the question: Is it worth keeping your valuables in a home safe? You may be better off putting jewelry and other valuables in a safe-deposit box at a bank.
"In a bank, there is a lot more security. The bank has [an insurance] policy with higher limits than you can get with yours," says Peter Moraga, a spokesperson for the Insurance Information Network of California, a nonprofit trade association.
Finally, says Sarenski, "The best place for cash is in the bank in a bank account. You have proof through your bank account statements or online access, and if the bank goes bankrupt, your cash is insured up to $250,000" by the Federal Deposit Insurance Corp.
Related Articles