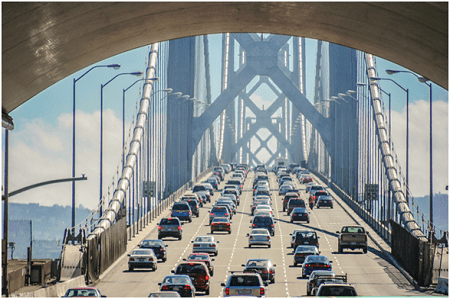 Average rate: $1,968
Average rate for the top-selling vehicle in the country first quarter of 2020 F-150: $1,818
Average rate for the top-selling SUV in the country first quarter of 2020Toyota RAV4: $1,942
Average rate for the top-selling sedan in the country first quarter of 2020 Toyota Camry: $2,093
California captured fifth place on the expensive list for car insurance, one place higher than last year. California is up 6% from last year's rates and is 30% more expensive than the 2020 national car insurance average ($1,517).
Californians love to drive and there are 39.5 million residents in the state. The sunny state is home to 10 of largest cities in the nation and while many roadways may be beautiful in the mountains or by the ocean, they can get crowded.
A densely populated urban area breeds traffic and congestion, which leads to a higher rate of car collisions and, thus, auto accident claims. The more claims paid out, the higher the risk the insurance company takes on to insure drivers, which results in high car insurance rates.
The best way to combat high rates is to shop around with at least three different companies and during the process ask about discounts you're eligible to receive. A driving record clean of traffic infraction and claims for the last three years will also help you obtain the best rates possible.